Take a trip to outer space and gaze at the stars with our beautiful & mesmerizing Galaxy Necklace! This necklace enables you to have your very own galaxy or planet around your neck. Get this stunningly unique necklace for yourself or as a special gift for that space fanatic in your life.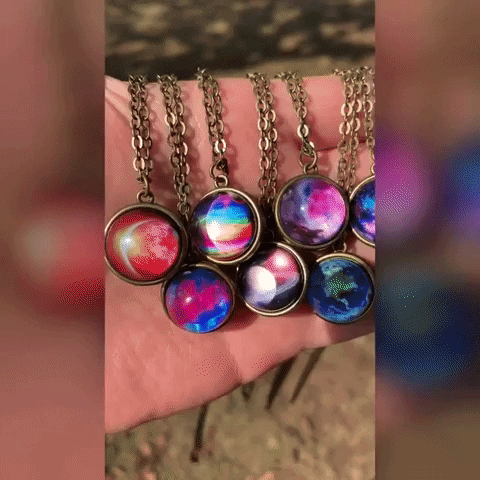 Each necklace has a special universe, galaxy, planet, or cosmic design inside the pendant. The natural glass pendant necklace is one of a kind and a unique beauty! This is not only a necklace but a beautiful work of art. 360-degree glittering beauty, marvelous and comprehensive, which is a double-sided round bead necklace for a fashion jewelry gift.
(Design: Earth)
Flawless design planet, the smaller core ball is made of special glass. Stars and orbits, those particles and strings are specially designed and made of precious metals. Galaxy necklace has a fabulous three-dimensional interior design and takes on various aesthetic looks in different lighting conditions. The Pale Blue Dot that we call home.  The third planet from the sun and currently the only planet known to harbor life.  Keep our Mother Earth close to your heart with this necklace!
(Design: Super Nova)
This necklace makes for an extraordinary gift that is simple, novel, and elegant. Our Galaxy Necklace is a fabulous gift to express your love to your mother, girlfriend, fiancee, wife, valentine, family, or just friends, etc. Great gift for your loved one. What is a supernova? In short, it is the biggest explosion that humans have ever seen. The supernova can be so bright that it outshines even the galaxy that it occurred.  This necklace will light up any conversation or outfit! Make them say WOW!
(Design: Eagle Nebula)
The Eagle Nebula contains some of the most stunning structures seen in the universe, including the Pillars of Creation. Contained in the necklace is a larger life phenomenon. 
(Design: Sunrise over Earth)
If you're looking for a spectacular sunset while pretending to be an astronaut, look no further than our "Sunrise over Earth" inspired necklace.  Who says you have to go to space to experience this magnificent view? See it anytime you want!
(Design: IC 2118 Nebula)
IC 2118 Nebula, also known as Witch Head Nebula due to its shape, is a faint nebula believed to be an ancient supernova remnant or gas cloud illuminated by the nearby supergiant star, Rigel.  Your presence will light up any room when you walk in!  
(Design: Orion Nebula)
The Orion Nebula is one of the brightest nebulae and is visible to the naked eye in the night sky.  It's also one of the most photographed and studied celestial objects in the night sky. Let your necklace be as photogenic as you are!
(Design: HyperSpace)
Straight out of science fiction, get lost in the stars, and imagine being Han Solo piloting the Millennium Falcon while leaving the Empire behind in your Star Dust. 
(Design: Saturn)
Saturn is named after the Roman god of wealth and agriculture and with all its rings it may as well be celestial royalty.  Feel confident and elegant with this necklace that holds the royalty of our solar system.
(Design: Crab Nebula)
Elegant reds and blues make up the design, originally named from a drawing by William Parsons, 3rd Earl of Rosse, which looked like a crab after observing it.  
(Design: Pride Planet) 
There is an undeniable enchantment each time a rainbow appears.  We stop what we're doing and admire in detail the beauty that is before our eyes.  Keep the breathtaking view of a rainbow with you and let it be a reminder of the good and beautiful things to come.  
Details:
Pendant Size: 2cm x 2cm
Chain Material: Zinc Alloy
Chain Length: 50cm

Style: Trendy
Item Type: Necklace
Manufacturing Process: Hand Made
100% Satisfaction Guarantee! Don't like it? 30 day Money Back Guarantee. Click on the Add To Cart button and get yours NOW!

WORLDWIDE DELIVERY 🌍 ✈
Shipping time varies by location. These are our estimates:
| | |
| --- | --- |
| Location | *Estimated Shipping Time |
| United States | 8-15 Business days |
| Canada, Europe | 8-15 Business days |
| Australia, New Zealand | 8-15 Business days |
| Central & South America | 10-20 Business days |
| Asia | 8-15 Business days |
| Africa | 15-30 Business days |
 Max delivery time – 30 business days.
*This doesn't include our 1-3 day processing time.
*All shipping times exclude clearance/customs delays

100% SATISFACTION GUARANTEE
If you don't have a positive experience for ANY reason, we will do WHATEVER it takes to make sure you are 100% satisfied with your purchase. We have 24/7/365 Ticket and Email Support.